Study in Czech Republic
The Czech Republic (or informally Czechia) is a small landlocked country in Central Europe, situated southeast of Germany and bordering Austria to the south, Poland to the north and Slovakia to the southeast. The Czech Republic covers an area of 78,866 square kilometres (30,450 sq mi) with a mostly temperate continental climate and oceanic climate. It is a unitary parliamentary republic, has 10.6 million inhabitants and the capital and largest city is Prague, with over 1.2 million residents. The Czech Republic includes the historical territories of Bohemia, Moravia, and Czech Silesia. The Czech Republic joined NATO in 1999 and the European Union (EU) in 2004; it is a member of the United Nations, the OECD, the OSCE, and the Council of Europe. It is a developed country with an advanced, high income economy and high living standards. The UNDP ranks the country 14th in inequality-adjusted human development. The Czech Republic is a welfare state with a "continental" European social model, a universal health care system and tuition-free university education, it ranks as the 6th safest or most peaceful countryand is one of the most non-religious countries in the world, while achieving strong performance in democratic governance.
Official name: the Czech Republic
Location: Central Europe
Language: Czech, (English also spoken)
Area: 78,866 sq km
Neighbours: Austria, Germany, Poland, Slovakia
Currency: Czech Crown / CZK
Population: 10.4 million
Capital: Praha / Prague (1.3 million)
Other major cities: Brno (385,000), Ostrava (303,000), Plzeň (170,000), Liberec (102,000), Olomouc (100,000)
Distance from Prague to: Vienna (300 km), Berlin (350 km), Warsaw (600 km), Budapest (500 km), Paris (1,000 km), London (1,000 km), Rome (1,200 km), Oslo (1,300 km)
Flight times from Prague to: Vienna (50 min), Berlin (50 min), Warsaw (1h 15 min), Budapest (1h 15 min), Paris (1h 35 min), London (1h 50 min), Rome (1h 50 min), Oslo (2 h)
Political system: parliamentary republic, bicameral parliamentary system with 281 representatives
Head of state: president
Membership: European Union, Schengen Area, NATO, OECD, WTO
Religion: every citizen enjoys freedom of religion, more than 50 % of the population describe themselves as agnostic or atheist
Climate: seasonal variations with warm summers, chilly autumns and cold winters
Average temperatures: January -4 °C; July 24 °C
Czech inventions: sugar cubes, contact lenses, semtex, fingerprints, cell theory, blood type classification, the word "robot", polarography, arc lamp, lightening conductor, ship's propeller and more
Famous Czechs: Charles IV. (Holy Roman Emperor, King of Bohemia), John Amos Comenius (Jan Ámos Komenský – father of modern education), Tomáš Garrigue Masaryk (1st president of Czechoslovakia, 1918), Václav Havel (dissident, 1st president of the Czech Republic), Sigmund Freud (founder of psychoanalysis), Gregor Mendel (founder of the modern science of genetics), Jan Evangelista Purkyně (biologist), Madeleine Albright (politician), Franz Kafka (writer), Milan Kundera (writer), Jaroslav Hašek (writer), Antonín Dvořák (composer), Leoš Janáček (composer), Bedřich Smetana (composer), Miloš Forman (director), Alfons Mucha (painter) and many more.
Why Study in Czech Republic
High quality education and research, especially in Sciences, Engineering and Medicine, has a long tradition in the Czech Republic. The Charles University in Prague was founded in 1348 and is the oldest university in Central Europe. Quality assurance of various activities of higher education institutions belongs to the main priorities of the Ministry of Education, Youth and Sports.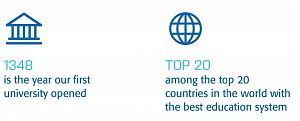 Diverse Range of Study Programs: Czech universities offer long-standing reputations, unique conception and interesting specializations. Students can come for a short study visit or to complete their degree in a wide range of traditional as well as newly-emerging disciplines.

OFFER FOR INTERNATIONAL STUDENTS
Over 43,000 foreign students are studying at Czech higher education institutions and their interest is growing as the offer of study programmes in foreign language (especially in English) is increasing. Czech universities are more and more involved in a wide range of international cooperation activities and programmes taking place in the European Union and other countries.
Lower costs of living
The costs of living in the Czech Republic are not as high as the expenses in Western Europe and the life is thus more affordable.

Area
The Czech Republic is historically divided into three regions: Bohemia, Moravia, and a part of Silesia. The total area is 78,866 square kilometres and the country's population is around 10.4 million people. The capital and the largest city with 1.3 million inhabitants is Prague.There are 5 other metropolitan cities with a population exceeding 100,000: Brno, Plzeň, Olomouc, Ostrava and Liberec. The Czech Republic shares borders with Germany, Poland, Austria and Slovakia.
The country is surrounded by extensive mountain ranges, which form most of the border: the Krkonoše Mountains in the northeast; the Krušné Hory Mountains in the northwest; the Šumava Mountains in the west; the Hrubý Jeseník Mountains in Moravia and the Moravian-Silesian Beskydy Mountains. The highest point of elevation is the peak of Mt. Sněžka (1,602 m above sea level). Many important European rivers (Labe, Odra, Morava, Vltava etc.) flow through the country.
Climate
The Czech Republic, as a landlocked country, has moderate climate with four seasons corresponding to the temperate climate zone. The climate varies throughout year, depending also on the particular location within the Czech Republic. The average temperature in January, the coldest winter month, is -4°C. Summer weather can be very warm with temperatures around 27°C in July. A nice time of the year to visit the Czech Republic is spring (mid-May to mid-June) and fall (September to mid-October), when the weather can be quite pleasant, although it can also be unpredictable.
---
STUDY IN CZECH FOR FREE – STUDUJ V ČEŠTINĚ!
Higher education at public and state institutions is free of charge if you study in the Czech language! The three articles below are for students with a good command of the Czech language and present information about studying in Czech, the compatriot education program and Czech language courses.
---
USEFUL LINKS